Our Wakes: 2017
The Messina Strait:
(28 May 2017)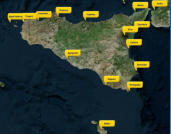 The Strait of Messina are a 3.5km long narrow passage that separates Italy from Sicily. There

can be a lot of commercial boats passing through the Strait and depending on the tide, you can

have currents running at up to 4 knots. If the wind is against the current, you can face choppy

seas that make the passage difficult. To prevent boat collisions, the authorities have divided

the Straights into 2 lanes in which you can only move in one direction. We were well prepared

for the passage through the Strait and encountered no difficulties. Traffic was light and only

one Malteses cargo ship on its way to Malta passed next to us. When entering the Strait from

the north you notice two huge pylons on each side. In the past, power cables were supported by

them to supply power to Sicily. Today, the cables are underwater and only the pylons remain to

guard the entrance to the Straits.


We did see three traditional boats that were out hunting swordfishes. Those boats are sailing

only when the sea is calm for obvious reasons. Luckily on the web there are several videos of

those boats in action. Those boats are quite impressive as they have a tower up to 30 meters

high on which 2 to 4 crew members stands watching the surface of the sea. In the front of the

boat there is a big prow 20 meters long occupied by the harpoonist.


The thing that surprised us the most was the number of white butterflies (more then 100) that

were crossing the Strait. They did not stop on Terus for a little rest; they were determined to

reach Sicily. We learned afterwards that those cabbage whites were coming from Africa and

migrate usually in May. Once we had finished navigating the seaway, we raised the sails and we

were moving nicely to the outh. At 3pm we reached Taormina that offered us a well-protected

mooring for the night. Taormina located well above sea-level looked quiet as all the G7 summit

guests had returned home to their own countries.Taormina is very much appreciated by the

tourists as it has a well preserved Greek theater and offers also a very beautifull view on the

Messina Strait.