Our Wakes: 2018
Preparation season 4:
(March-April 2018)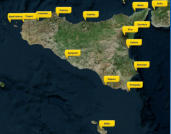 In early March, we returned on board of Terus to prepare for the new season that will take us

to Greece. Terus had overwintered without problems, except that in November we forgot to

remove some potatoes. So when we opened the hold it was full of potato sprouts. This was easily

fixed, but I am sure that next time, we will not forget the potatoes. We started to clean Terus

as the deck was particularly dirty with a lot of bird droppings which were very hard to remove

and some sand that the southerly winds had blown onto the decks.


Luckily, we could borrow a high pressure cleaner. Inside, we started with the maintenance of

the engine, the water maker and the genset. No surprise, in that area, everything worked fine.

The only repair that needed to be done was to install new bow thruster propellers as last season

we damaged one propeller. This required lifting the boat up for about 2 hours. Finally, we

mounted a new anchor and 84 meters of chain as we wanted to have a reliable mooring in Greece.

There are not many marinas in Greece, so we will often have to rely on our anchor and chain.