Our Wakes: 2017
Assisi:
( 16-17 March- 2017)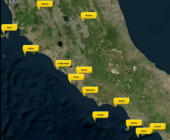 Assisi is a city totally devoted to St Francis who founded the order of the Franciscan monks in

1221. But less known is St Claire who lived at the same time and founded the order of the poor

ladies also known as the Poor Claires. Her body is on display in the St Claire Basilica in Assisi.

Today there is also a big theological university where clerical people as well as lay people can

study the religious writings.


It is of course the cathedrals of Assisi that make this place interesting to visit due to the

numerous paintings and other religious objects on view in them. First there is the lower Basilica

were St Francis' body lies. A lot of people visit this place as probably St Francis is one of the

most popular saints of today. In the lower Basilica there are several paintings related to the life

of the Saint. In 1997, Assisi was hit by an earthquake that seriously damaged the city, but the

lower Basilica suffered only minor damage. The upper Basilica located above the lower one

suffered a lot more. The ceiling collapsed and a lot of wall paintings were seriously damaged.


The Italian government made it a priority to allow people to revisit the basilica and 2 years after

the earthquake it was again open to the public. The restoration of the paintings continues. Behind

the upper cathedral there is a little museum that contains an impressive collection of religious

paintings. Most of them were left to the order by a rich American when he passed away. The

curator of the museum explained to us that today his biggest worry is the preservation of the

items. The recent earthquakes in Norcia, although located more than 100km from Assisi, moved

some of the objects on display and they need to protect them more. He showed us that in the


displays several objects had moved following the tremors and could have fallen off. The dust

marks in the showcase clearly indicated that the objects had moved . Within walking distance of

the train station which is located outside the city of Assisi lies the Basilica of Santa Maria Degli

Angelli. In the middle of the basilica there is a little chapel called the Portioncula. It is said that

this is the exact place were the angels appeared to St Francis who at that time was restoring the

church. Close to the Portioncula still inside the basilica is the place were St Francis died. A lot of

fervent people visit this place an pray in this basilic.